Founded in 1949 S. Kaplan Sewing Machine Company has grown into one of the leading distributors of new and reconditioned industrial sewing equipment for non-apparel industries in the United States.

The success of S. Kaplan Sewing Machine Co. is based in building a long term relationship with our customers, some of whom have been doing business with us since the 1950s. It is our interest in these relationships, rather than simply a one time sale of machinery, that has allowed us to reach the position we are in today. We serve leading manufacturers in the mattress, industrial fabric, marine, canvas, bulk bag, awning, banner and upholstery industries, supplying from one machine to an entire plant installation.

S. Kaplan Sewing Machine Co., Inc.

11 Tichenor Lane

Newark, NJ 07114 USA

P: 973-242-8700

F: 973-242-7055

kaplansew@gmail.com

Equipment Modification & Upgrades

Genuine & Generic Replacement Parts

Custom Attachments & Guides

Slitting & Winding Machines

On Site Technical, Training/Repair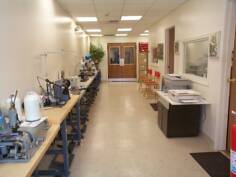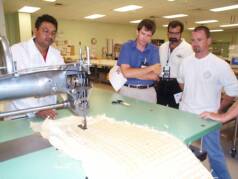 Tel. 973-242-8700

Fax. 973-242-7055

kaplansew@gmail.com

New Addition To Our Line

Typical GC0605A

Kaplan Sewing Machine is pleased to offer the Typical GC0605A walking foot machine. This single needle large bobbin machine equipped with reverse feed, is the perfect machine for marine canvas, upholstery, furniture, awnings, covers, bags and medical items. Machine is equipped with a large side loading hook and bobbin, built-in bobbin winder and safety clutch to prevent hook damage. Maximum stitch lenght 9mm, 36mm needle bar stroke and 14mm presser foot lift.